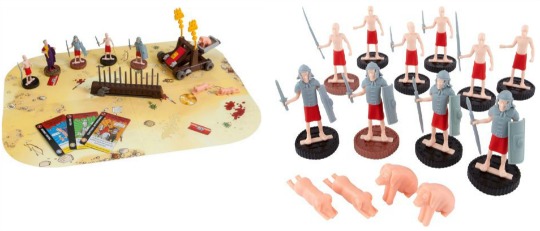 Like the Bakugan we blogged last night, the before prices on these Horrible History items may be a little unrealistic but for 99p for the solider set (from £9.99) and £1.99 for the Playset (from £14.99) these may make good stocking fillers, help with history projects at school or even just amuse the kids for a few hours over the holidays.
In the soldier pack you get 4 soldiers, 6 peasants, 4 pigs and an exclusive game card. While in the playset there's a catapult, 3 game cards, a scoring spike, 2 soldiers, 2 peasants, three pigs and a play mat. It also includes the Roman Emperor Julius Caesar, to help command and lead the troops into battle. It does state with the playset there are two to collect, either Roman or Egyptian, so something to bear in mind, although Argos are usually pretty good at letting you choose in store.
The reviews suggest that the attention to detail is good on these sets and people seem pleased with the quality.
There's plenty of stock around and you can reserve them for free at an Argos near you or opt for home delivery for an extra £3.95.