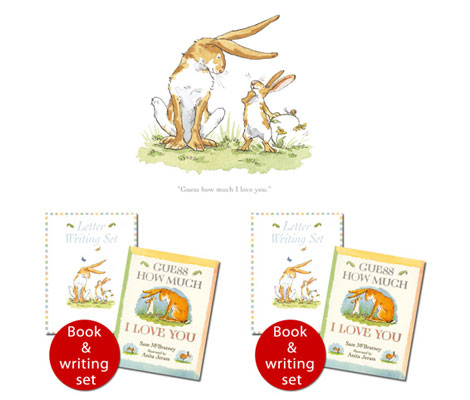 There's an even greater deal on at The Book People than the one we published this morning. The Guess How Much I Love You book and writing set are on offer at £1.50 for both.
Sarah told you about Guess How Much I Love You this morning, if you didn't already know about it!
It's an amazing gift set, much loved by children and mums alike, and if the story isn't sweet enough, there's also a lovely writing set for littlies to write letters to the ones they love – to grandmas, grandpas, aunts and uncles.
The set comes complete with 20 sheets of writing paper, 12 envelopes and 12 sheets of stickers. The writing paper is suitable for letters, invitations or thank you notes, not only perfect for teaching your kids the value of saying thank you for gifts received, but also spreading the joy of good old fashioned snail mail.
And who knows. Maybe you'll even receive a little love letter you can treasure for years to come too.
With postage, the book and writing set will come to £3.45
Thanks to Kelly'n'Steve at HUKD