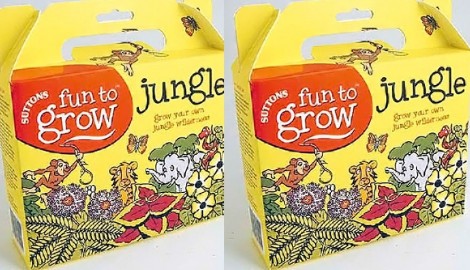 The price for the Suttons Jungle in a Box kit is £3.74 at the moment but they have a special offer running where you can get another 5% off the sale price if you spend over £100 before 11pm tonight. While that may not really help much if you only want this one kit, it can add up if you are buying in bulk. Oh, and UK delivery is free. I love this dude.
The Jungle kit contains for stencil cards, cool animal stickers that you can stick on straws and put into your jungle, a pack of crayons, six plastic straws, one magic compost block, a propagator tray and three packs of plant seeds.
The flowers included in your jungle are the Mimosa Pudica that curls its leaves when tickled, the Monkey Flower that looks like a money, and Black Eyed Susan. You get full instructions on how to use the kit, cool (and stupid) Jungle jokes to enjoy, and lots of advice on how to maintain your kit.
This is brilliant.
Please note. They skankily charge you £1 for a Low Order fee. This really annoyed me and so I didn't buy the item.
Thanks to Yorkie1962 at HUKD!