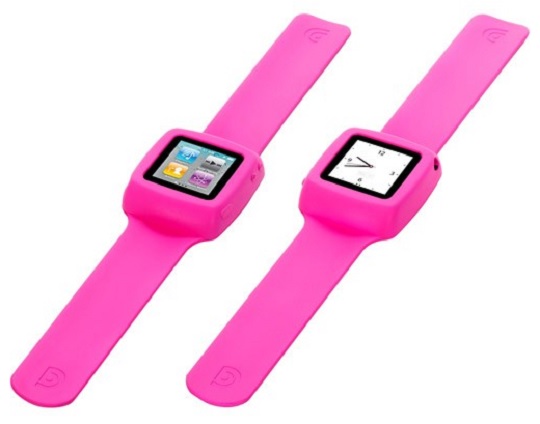 Save a whopping and phenomenal 87% on the super cool Griffin Slap Watch For iPod Nano 6G. The snapping strap comes in bright pink and WH Smith has reduced it from £14.99 to £2.00 so you're saving £12.99, awesome.
The Griffin Slap Watch for the iPod Nano 6G is available in hot pink and is perfect for conveniently taking your iPod Nano with you wherever you go. The pink slap watch is the ideal way to show off the Nano 6G and the thick silicone band is the funkiest way to protect your Nano.
The Griffin Slap Watch is packed with really cool features. The flexible spring-steel band wrapped in soft silicone snaps securely around your wrist to keep your iPod Nano close at hand. You can take your iPod running, to work, to school or anywhere else without having to worry about it falling out of your pocket or having it nicked out of your bag. The thick silicone frame protects your Multi-Touch display, volume controls and dock connector while the frame covers the volume and sleep/wake buttons with protective silicone but still allows touch-through control of your iPod Nano.
Happy slapping!