Galt Toys Fairy Craft Sets £3 @ Amazon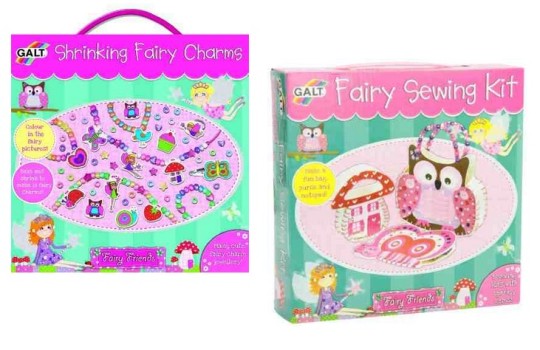 Amazon have reduced the price of some of their Galt toys to just £3. Obviously unless you have Prime, you'll have to spend over £10 for free delivery, but these are such great gifts to have on hand for birthday parties or other impromptu gift occasions.
The Shrinking Fairy Set lets you make cool fairy charm jewellery by colouring in the fairy charm pictures with the pencils provided. You then pop them in the oven and watch them shrink into hard plastic charms - my kids love watching them!
The charms can then be mounted on to earrings, a ring or hairclips and more.
The Fairy Sewing Kit is an ideal first sewing kit. Using the kit you can make an owl bag, a toadstool purse and a butterfly notepad. The kit lets you stitch the parts together and decorate it with stick-on gems. Galt suggest this gift is suitable from 5 years old.
Personally I'm buying four of these to take me over the £10 limit, and give me three nice little gifts for the myriad of birthday parties my girlie gets invited to.