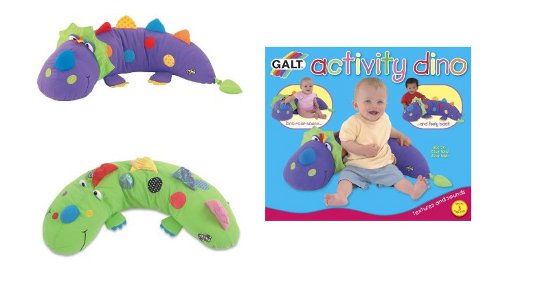 The Galt Soft Play Activity Dino is on sale at Amazon for £14.50, a £7.49 reduction in price from £21.99.  Delivery is free in the UK and you can pay extra to have it as soon as tomorrow.
This is one of the multitude of things my daughter never had because we spent most of the first year of her life travelling, but I'm looking at now for our second child thinking "I know you don't need it, but it looks like a fun thing to have!" Friends of ours had a large comfy worm which I always thought the same about. So… if you're looking for something you don't need but want, this is a good price, I think!
Activity Dino is bright and colourful in bold contrast colours and patterns and a friendly face. The image makes it looks like he comes in one of two colour and style options, but there doesn't seem to be a way of selecting which one you want. I guess it's luck of the draw?
Dino is decorated with different textures and sounds and you can make him roar by squeezing his nose. I love that he is machine washable – that's a winner!
He's suitable for babes over 3 months.