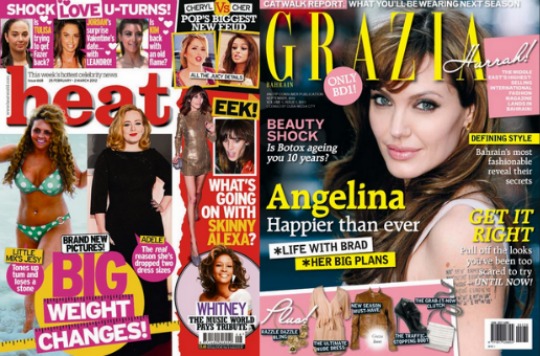 We all love a FREE Gift, don't we. FREEBIES aren't usually that exciting, that is unless you subscribe to a magazine. Every Christmas I buy magazine subscriptions for the family. I generally go with the one that has a FREE gift. Great Magazines is the site to find those super deals. They do all the popular magazines plus some niche market ones too.
Delivery is FREE on all magazine subscriptions from Great Magazines which is great, so the price you see is all you will pay. Magazine Subscriptions make really good Christmas presents as they are the gift that keeps giving kind of thing.
If you like Grazia* then you can get a SIX month subscription and a FREE Elizabeth Arden Superstart Skin Renewal Booster worth £45! A real bargain even if you were thinking about buying the cream, get it via this method and save yourself £15, plus gain six months of magazines.
Prefer Heat magazine*? Get 12 print issues and 12 digital editions of Heat magazine from £12. You will also receive He-Shi Gold Foaming Mousse, Soufflé Moisturiser and tanning mitt worth £42.25! Again, saving you £££'s.
Magazine subscriptions require Direct Debit agreements so make sure you read through the small print. I have personally never had any problems whatsoever cancelling them once the subscription is over.