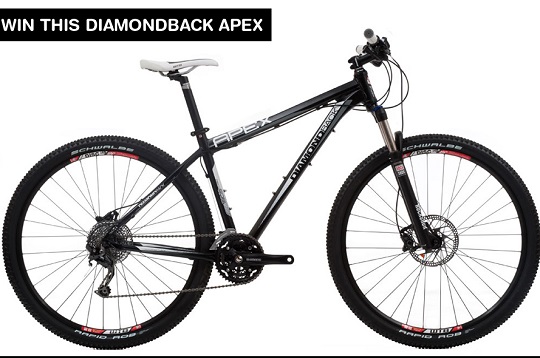 There are few things as amazing as winning a competition, so I've been out there on the web, scouring for cool free competitions that will make you shiver. Today we have some really awesome prizes and the first of these is an Diamondback Apex mountain bike courtesy of, well, Diamondback! You need to enter your details on their site to win this £800 bike.
There doesn't appear to be any indication as to the expiry date so enter now or lose out.
Winning that awesome bike could very well be one way to get fit if you are about to get married. Another way to get ready for the wedding is to win a great honeymoon giveaway at Wedding and Wedding Flowers. Every week they give away one stunning thing that will make your honeymoon special. This week it is Nina Ricci perfume and all you need to do is click on the link to win. The prize changes every week so if you don't win this week, check in next week!
Finally we have the lovely Blu-ray classic film bundle from Smooth Radio. To be in with a chance of winning all of the classic films they have on offer then you take the quiz below, fill in your details and then you are in with a grin.
Q: Which character did Robert Redford play in Butch Cassidy and the Sundance Kid?
A: The Sundance Kid
Q: The Great Escape is set during which World War?
A: World War II
Q: What is the name of the family that Robin Williams is obsessed with in One Hour Photo?
A: The Yorkins
Q: Which brothers wrote Raising Arizona?
A: The Coen Brothers
Q: What is the name of Clint Eastwood's character in a Fistful of Dollars?