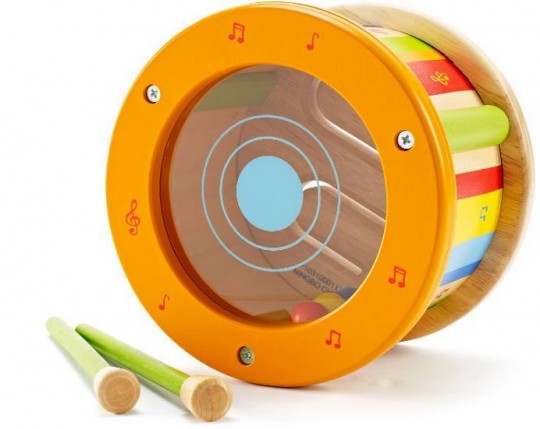 The perfect gift for someone you hate, WHSmith has an Educo Early Melodies Wooden Drum on offer at £6.49 - a £6.50 saving.
It's always really tough to make a judgement call on something based on just one review. This looks like a lovely drum, but there's one negative review on it so initially I wasn't going to write about it. But then I realised that my 4 year old had a £100 gift from someone for her birthday and a few days later most of the small parts were no where to be found, and the rest of it is largely unusable without the small parts!  So, if this reviewer is right and the drum lasts only 2 months, that would be pretty good going in our house - and not too shabby at £6.49.
It seems that Educo is otherwise known as Hape, and there are more reviews dotted around on the Hape Early Melodies Wooden Drum - some great, some not. In fact, some people say the plastic side broke in minutes, and some say nothing's broken despite constant abuse. So you might get a good one, you might not. Personally, I'd probably go for it at this price, and just use the wooden side, not even adding the plastic side!
It also comes with two drumsticks.