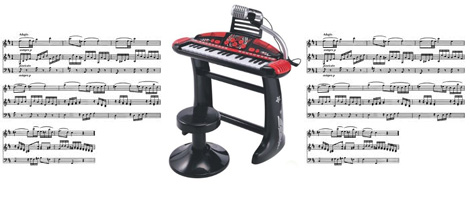 The Early Learning Centre have teamed up with Mothercare to bring you this ELC Super Star Cool keyboard.
I can picture the scene 76 days from now...
Your child has woken up extremely early and is incredibly excited. Did Father Christmas come overnight and leave presents?!
They sneak downstairs to see something big hidden beneath a huge sheet. Could it be?  Could it really be the Early Learning Centre Super Star Cool keyboard that they asked for???
It is, of course, because it made perfect sense to buy it as it was on offer at Mothercare for £25 instead of the usual £45.
Your little one then spends the rest of Christmas day happily unleashing their inner Mozart and Rachmaninoff.
This ELC Super Star Cool keyboard is suitable for budding musicians aged three and over and it comes with its own matching stool too.
It has a record and playback function, a detachable microphone, the obligatory flashing lights and lots of rhythm, instrument sounds and drum buttons.
The only thing wrong with this is that it runs on batteries! 4 'C' ones to be precise (what are C batteries? Are they the square ones?) and I can't see any reference to there being a mains adaptor, so if you can get rechargeable C batteries then I'd strongly recommend getting in a few of them!
This is available for home delivery for £4.95 or to collect from your local Mothercare for free.
Thanks to ran123ran over at HUKD!