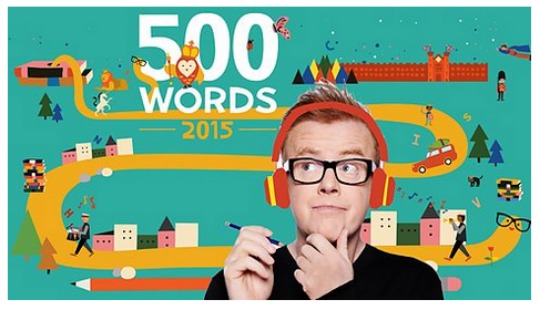 Do you have a budding writer in your house? This morning on the Radio 2 Breakfast Show, Chris Evans launched the '500 Words 2015' Children's Story Writing Competition. It's been going for 5 years now, and has been a great success, supported in many schools, and by celebrities.
The story competition  is open to children aged 13 and under, and the idea of the competition is to promote reading and literacy. It is supported by lots of online tools, inspiration, ideas and tips from children's writers.
Last year's prizes were lots and lots of books - 1st prize in each category was Chris Evan's height in books, and he's a pretty tall man! Also the winning stories are read and recorded by celebrity readers, and last year it included Benedict Cumberbatch, Hugh Bonneville, Paloma Faith and Dick & Dom!
It sound like a great idea, and there are lots of resources and fun ways to help kids get inspiration on the official website.
At half term on a rainy day I might see if my eldest can have a go. "Edward And The Bee And The Bear" wasn't quite 500 words, and neither was "Edward And The Bread Factory", but maybe he's ready for a longer story now! Anyone else thinking their children might like to enter?