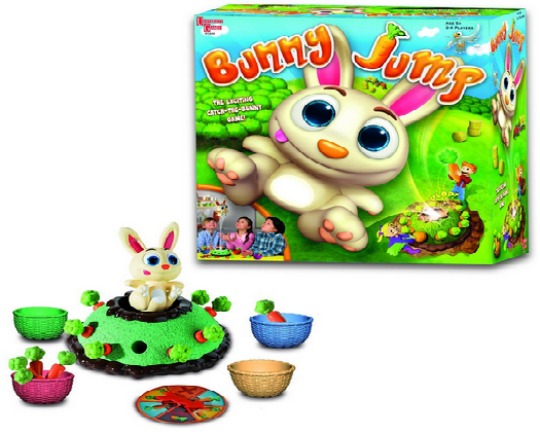 University Games have launched a game called Bunny Jump, as if you didn't already know. It's on the adverts A LOT! So much so that my children have given me numerous headaches whilst explaining how much they NEED it. Yeah, and mummy NEEDS a date with Tom Hardy. Amazon are the cheapest place to get this game, around £3-4 cheaper than the likes of Argos, Smyths and Toys R Us. Plus you get the bonus of Amazon's FREE Super Saver delivery.
From watching the advert, Bunny Jump appears to be a bit like Pop Up Pirate, but in reverse. Each player gets a basket and has to pull a carrot from the grass, on each turn. One unlucky player will make Bunny jump into the air but can he be caught? The player with the most carrots at the end of the game is the winner.
A simple idea, but the simple games tend to be the best. There's nothing worse than games that have 1001 rules, it puts the kids off and it puts me off. Games are supposed to be fun! I am tempted to get this for my boys as I do think they would sit and play nicely together, and it can accommodate up to four players.