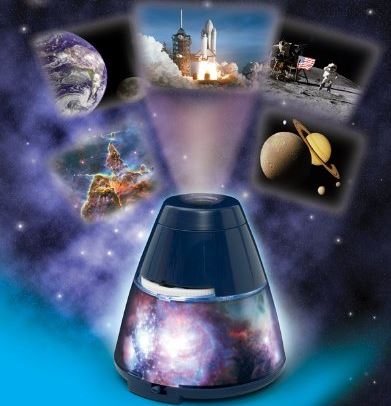 Amazon has an offer on a range of space-themed projectors at the moment, including the Brainstorm Toys Space Explorer Room Projector which it has reduced by 27% from £12 to £8.79, which of course reduces it to below the free delivery threshold, so either buy something else for £1.22 or pay the additional shipping fee. It's not a bad idea to have start thinking stocking fillers!
Discover the Universe with your very own Space Explorer Room Projector.
Use the high quality projector to view 24 NASA and Hubble Spacecraft telescope photographs of spacecraft, astronauts, planets and nebula from 3 changeable slide discs. Easy to use just turn the switch to projector mode and insert one of the three picture slides, rotate the slide round to view the 24 different photographs that project on to the ceiling up to one metre wide whilst maintaining great clarity.
To change the slides simply press the button on the side of the projector to release. You can focus images by twisting the lens cap. At night Space Explorer becomes a cool nebula night light by turning the switch to the lamp mode. Read fascinating information about each NASA photograph in the colourful educational booklet.
Sounds like a perfect way to drift off to sleep.