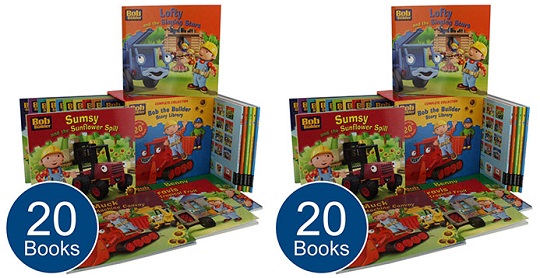 Save a super duper £50.00 on the Bob the Builder Story Library Collection. This library contains 20 Bob the Builder books and normally retails for £59.99 but you can get it at The Works for just £9 .99. That's a saving of 83%, smashing!
If you're looking for an affordable Birthday present or a gift for any other occasion this is the perfect gift for any Bob the Builder fan. It's the complete collection of the Bob the Builder story books featuring 20 fun filled adventures with Bob, Dizzy, Scrambler, Wendy and all their friends in a special slipcase. You'll have hours and hours of Bob the Builder reading, I know a few kids who are going to love this. You're going to have enough bedtime story reading material for a while.
Sumsy and the Sunflower Spill and Travis and the Tropical Fruit are just two of the books in the 20 book collection, I hope you enjoy them all.
Hurry and get the Bob the Builder Library Collection now while it's still available at this great price.