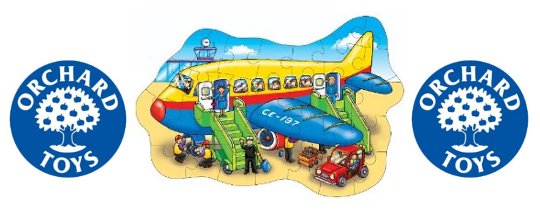 Amazon have reduced the price of this Orchard toys big aeroplane puzzle down to £5.99 from £9.50.
I have a love-hate relationship with aeroplanes due to frequent airport 'hellos' and 'goodbyes' - the hellos are fabulous and the goodbyes break my heart every time.  However, I have love-LOVE relationship with jigsaw puzzles - they are fantastic in every single way, whether they be big aeroplane floor puzzles for kids or 1000-piece monsters for grown ups.
There are 30 big chunky pieces to fit together and the scope for learning with this big aeroplane puzzle is vast - not only is there the usual problem solving, motor skills and pattern recognition development opportunities, but you can introduce counting by counting the number of passengers on the plane, identify colours and make up stories about where all the passengers are going.
Reviews for the big aeroplane floor puzzle are good too, here's just one of them...
"My 2 year old daughter loves it because it is about something different. She was a bit fed up with all the puzzles with animals and thanks to this new subject we can make up new stories."
All the usual Amazon delivery options apply - if you take the SuperSaver choice then you won't pay anything for delivery of your big aeroplane floor puzzle.
Thanks to bargain1979 at HUKD