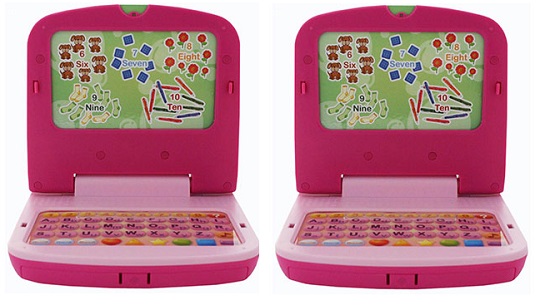 Save £12.00 on the cute Accelerator Little Learner Laptop from The Works. This cool kid's laptop has loads of features and activities and while it normally retails for £24.99 The Works have it on sale for £12 .99 so you'll save an awesome 48%, excellent!
With technology the way it is today and the rate at which it's advancing your kid's probably already know more than you about computers, the internet and anything that involves screens and a remote. Whether they've already hi-jacked your laptop or iPad or not it's probably a good idea to get them started early.
You can get them ready for the gadget world with the Oregon Acientific Accelerator Little Learner Laptop. Get ready to play and learn while having fun the whole time. The laptop helps kids to learn numbers, shapes and colours and to boost their spelling and vocabulary. There are eight colourful double sided activity cards with fun illustrations for them to learn from and keep them busy.