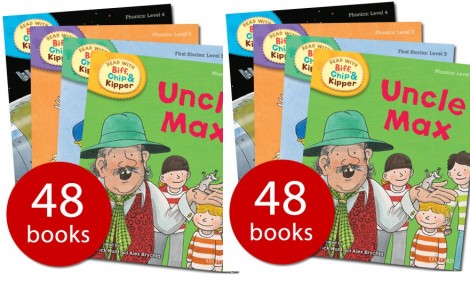 The Oxford Reading Tree series is the same that your kids get when they go to school. A series of books starting Biff, Chip and Kipper that teaches them basic words and sentences and makes them excited about learning and reading. The Book People have marked the set down from £243.51 to only £25 so you save £218.51.
These books amuse me. First off, you get a pair of glasses that are hidden somewhere in almost every book – not all of them  but many of them. Then you have a series of characters that have names that are, quite honestly, bizarre. Who calls their kids Kipper? Or Biff? Or Chip?
Who calls their daughter Biff? WHO? Weirdoes, that's who. But the stories are sweet and my daughter loves reading them and I am definitely going to buy them this time around. We don't have any more space on her bookshelf but I can always donate some to her school.
There are 48 books in this bundle which is a total bargain for £25. I'm not too sure I believe they ever cost £243 though, do you?
Thanks to geegee-pinata at HUKD!