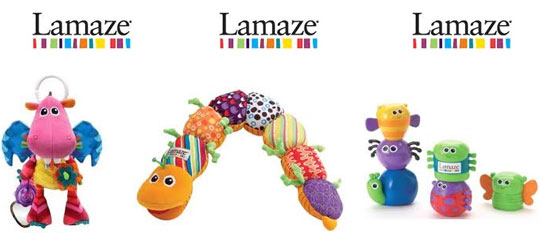 Tesco are in the middle of their Baby Event and if you pop over there now, you'll be able to pick up a whole host of Lamaze toys that have had 20% taken off their full retail price.
Lamaze, I'm sure, should be pronounced 'La-mars' or as it's written 'La-maze', but in my household it very quickly became pronounced La-maisy - I can't remember why, I just know that I can't pronounce it any other way now.
Lamaze have been around for a long time and conducted a ton of research into what makes babies tick, the developmental stages they go through and designed their toys accordingly. We had an Octopus for my youngest when he was born and he adored it; in fact, at six years old now, he still does.
The fabulous Lamaze Stacking Rings and Puppytunes Musical Dog are part of the Tesco Baby Event 20% off Lamaze toys offers, and those along with the Lamaze Octivity Time Octopus are probably the items I'd recommend to you the most.
There are a total 37 Lamaze toys included and the smaller items start at just under £4.  If you arrange to collect your Lamaze items in-store then you won't need to pay anything extra.
Happy choosing Lamaze toys!