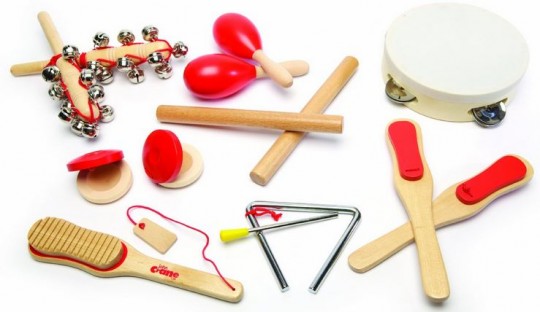 Amazon have a 14-piece musical instrument set for childrenon offer for £16.48, instead of £32.99. It's currently on sale in Argos for  £21.99 and at Debenhams for £35.
This set of 14 musical instruments come mostly in a natural wood colour with red paint detailing. They are bright and colourful. This set is enough to equip a whole band, with a tambourine, triangle, maracas and many other instruments.
Comes packaged in a neat, roomy storage box with carrying strap. It features a magnetic flap that is easy and fun for small hands to manipulate yet sufficiently secure. One of the reviews says, "The maracas is softer than expected with a gentle swishing sound, which I actually rather like (it makes a nice contrast/complement to a more resounding homemade version that I already have).
The rest of the instruments are louder but make equally beautiful sounds. Good variety of instruments that look attractive as a set as well as individually and feel well made too. Great design where the simple colours are at once bright enough to interest the toddler and sophisticated enough for an older person, definitely something that can grow with the child as opposed to other sets with more blatantly childish prints or designs. I can foresee many years of usage out of this in my home at least."
These early musical instruments introduce children to early percussion, this would make a perfect gift for any budding musician, or musicians.