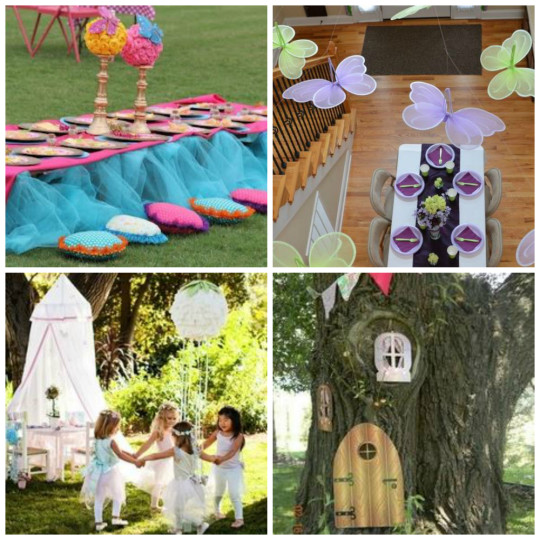 Nothing makes a fairy party more effectively than decorations. You can ignore everything else, but a few well placed decorations will make those little imaginations fly! The first no brainer, which doesn't have to cost you any money, is to make it a fancy dress party, with your guests coming as fairies or elves. With your guests as characters, the scene is set.
All that's left to do then, is set a table, and bring it all to life. I loved the low table in the picture above. It's perfectly designed for little people and would be awesome in a forest setting.
For an indoor party, I loved the fairy wings suspended from the ceiling - this works as well from trees outdoors though.
Another really effective decor is the canopy tent*. I'm not sure why, but that holds almost mystical charm for children - put a few cushions or throws down on the ground and the kids will turn it into a palace. I grew up knowing these as mosquito nets, but my girls have them as bed canopies and they love it!
And if you have trees to use, definitely invest in a fairy door or two! They're from £3.99 on Amazon, and well worth the money, I think!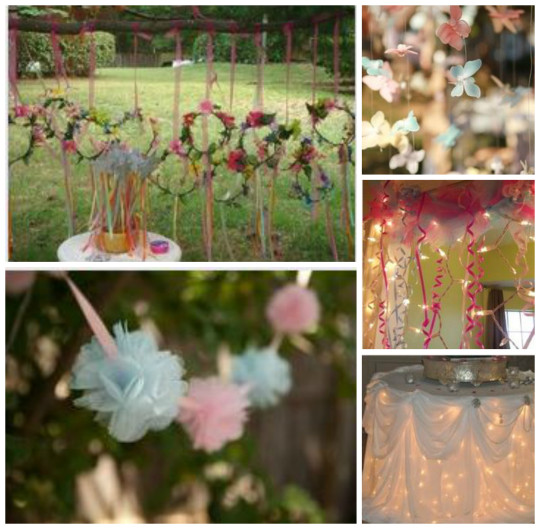 The 'in' thing for fairies definitely seems to be hanging things. I bought a big tub of fairy stickers for my daughter's 1st birthday party, and tied the glittery fairies to string and had them hanging from the trees, like flying fairies. It was really cute and very effective.
Another winner is making paper pompoms, like in the big picture above. I also love the hanging crowns. I suppose each child gets one as they arrive, but again, it just looks so effective. Fairy lights and twirly things add another great mix of pretty to the decor, whether in the form of table decorations, or hanging in doorways. Beautiful ideas come together in the small details to make spectacular party decor.
For more fairy party ideas, check out our Pinterest board!
Follow PlayPennies's board Fairy/Tinkerbell Party Planning on Pinterest.