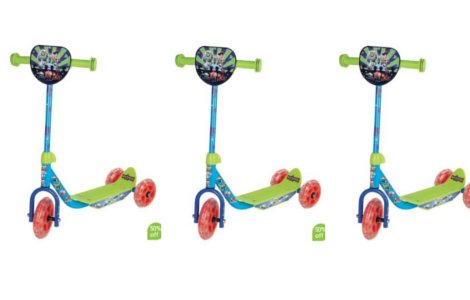 Mothercare have a lovely half-price deal on this three-wheel Toy Story 3 scooter at the moment - it's now just £12.49 instead of £25.
When you're a kid there's nothing quite like going out and about and scooting around for a bit, whilst everyone else is walking.
I loved scooting and given half the chance I'd still scoot on a scooter if I could.
Rather than the two-wheeled inline scooters, this Toy Story 3 scooter has three wheels so it's much more stable for younger scooters - they can scoot around happily without having to learn how to balance at the same time.
It's covered in everyone's favourite Toy Story character pictures, the footplate is nice and wide and the handle bars are height adjustable and have chunky hand grips too.
This Toy Story 3 three-wheeled scooter is suitable for little scooters ages three or above and is available for home delivery if you don't fancy hauling yourself into town, or if you are brave enough to hit the high streets then you can collect it from your local Mothercare.
Thanks to shadow1 at HUKD