*Updated* BOGOF On Disney DVD/Blu-ray Including Frozen @ Disney Store, Asda, Zavvi, Amazon & Tesco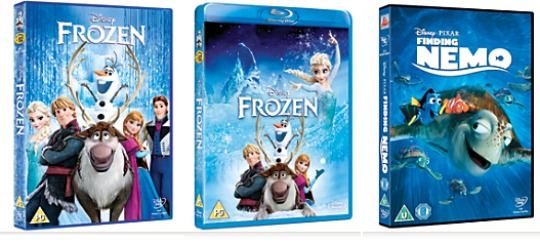 Excuse me as I shriek with excitement! Every year for goodness knows how long, Disney Store run an offer like Buy One Get One Free on their DVDs and Blu-rays. This year it includes loads of choice, including....wait for it....FROZEN! Yippeee! Whilst, I am sure most of you will own it already, gift it to some poor soul that's had the misfortune of never viewing it! DVDs/Blu-rays start @ £8.99. Don't get too excited, it doesn't start until Monday! *Offer NOW launched in Asda, Tesco, Amazon & Zavvi.*
Oh Disney, just keep getting better and better! We all have our favourite Disney film, but as they bring out new ones, those change. Aladdin* used to be my favourite, then Up!* but Frozen blew all of them out of the water. If you think you already own all of the classics, then that's fine because there's some newbies like Sofia the First*, on offer too.
Even if you don't buy them as gifts, they can be used for family nights in. If you are fortunate to have a 3D television, the firstly, I am jealous of you and secondly, they have six 3D titles included in the offer.
As far as we know this should be on instore too, so if you are passing on Monday have a look!
Tesco are BOGOF, Asda are two for £13, Amazon are two for £13 and Zavvi are BOGOF. ALL OF THESE RETAILERS OFFER FREE DELIVERY!
Thanks to kylemj @ HUKD