Special Agent Oso Bear £10 @ Disney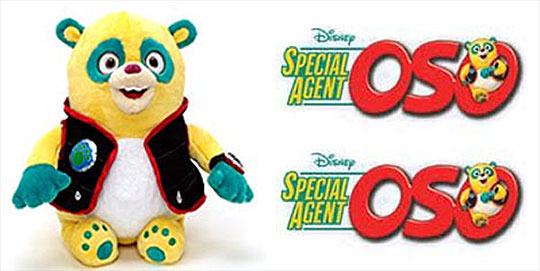 If you were in the cuddly toy market last year then you might remember all the fuss that surrounded this Special Agent Oso Bear - the world went crazy for him!  He's back this year, on sale at the Disney Store, for £10 instead of £18.
It's almost impossible to believe that more than a year has gone by since we were all sitting here in the PlayPennies office, in utter bemusement at all the brouhaha and frantic parental searching for one of these Special Agent Oso Bears.
They went out of stock as soon as they were IN stock and I saw a Special Agent Oso Bear up for sale on that well known auction site for more than three times the rrp!
None of us had any clue about Special Agent Oso Bear until Lynley wrote about him, then we discovered that all hell had broken loose in the toy world and Special Agent Oso was HOT!
After a quick bit of research, I discovered that Special Agent Oso is a blue and yellow panda (you don't see many of those!) who's a special agent and comes to the aid and rescue of kids who need him.
I could do with a Special Agent Oso Magic-Wand-Waving Bear today, I've got three days of things that I need to cram into today before 10pm!  So on that note I'm off to track down the next deal to tell you about.
Thanks to vicki4903 at HUKD