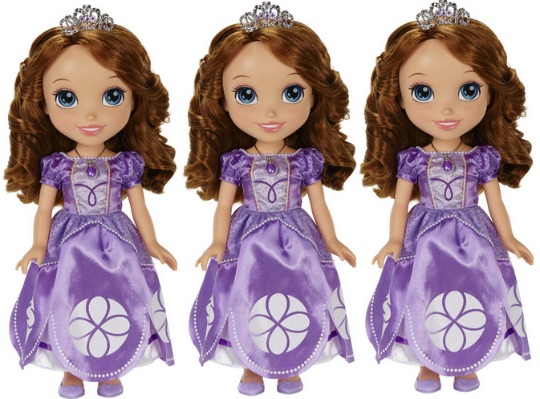 The Sofia the First Toddler Doll is a must for little Princess Sofia fans. Get one from Smyths Toy Store for £24.99 or head to Amazon and grab one very quickly for just £10.19. This includes FREE Super Saver Delivery too. I am sure you will agree that the Amazon price is a flaming good bargain, so if you have a birthday coming up then grab one of these. It's even affordable to put by for any parties your child is invited to.
I think this is the cheapest I have ever seen any of the Disney Toddler Dolls for. She stands at fifteen inches tall and has long hair that can be brushed. She comes with a Tiara, so your little one can play about with different regal hairstyles.
With the doll and the Tiara you also get a Dress, pair of Shoes, Hairbrush and Mirror.
The Disney Toddler Dolls are different from your "Barbie type" dolly and are babyish looking. This Sofia Toddler Doll is chunky and would make a good first doll, but she isn't suitable for children under three years old, so bear that in mind.