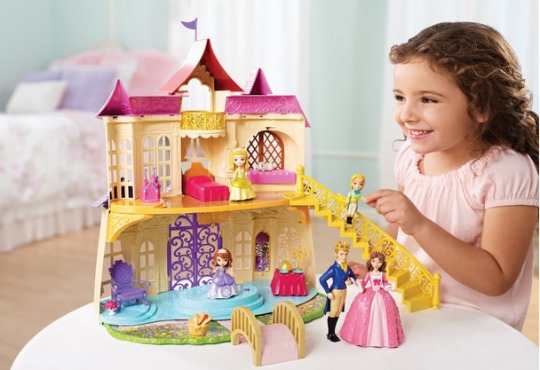 The Sofia the First Magical Talking Castle has an RRP of £64.99, and although most stores are selling it  for between £55 - £60 Amazon has by far the best price, beating the closest price by around £20. Add in the Free Delivery and that's a really good price for a big branded Disney toy.
The Sofia The First Magical Talking Castle is a two storey castle playset that comes with figures of Sofia and Clover the rabbit. When you place either of these figures on the castle's 'magic' base and you get to hear different phrases in the characters voice.
As well as this the castle has a ballroom and a bedroom along with lots of little features like a hide and seek window seat, a bed, throne, dining area, a mini toy castle in Sofia's room, a balcony, bridge and staircase.
You can also buy additional characters which will unlock different phrases and 'magically speak' when they are placed in the base in the castle, so the playset can be added to in the future.
Many Thanks to Martha on our Facebook Page for letting us know.