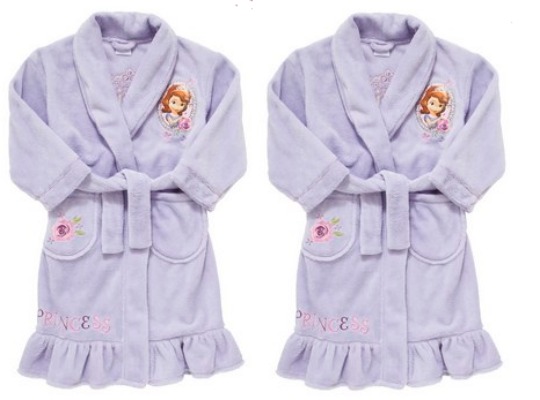 Sofia the First....kids love her and it's a modern Princess tale, a VERY modern one since she isn't born into being a Princess but is married in. That's not a bad thing though, it's nice to instil dreams into children no matter their background, whether it's a rags to riches story or one about a child whose Mother marries a King. Anyway, I am babbling the point of this post is... Sofia the First Dressing Gown has been reduced to just £5-£6 from £12-£14 from Clothing at Tesco.
The Sofia the First Dressing Gown is of a fleecy texture and is lilac in colour. There's currently availability in every size from 2-3 years to 7-8 years.
It has a frilly hem just like what a Princess would wear along with a large Sofia the First motif on the front, along with a rose and the word 'Princess'. There are two handy pockets to the front which you will find a mixture of hankies, smarties and play-doh in each time you got to wash it.
You can Click and Collect the Sofia Dressing Gown from your nearest Tesco for FREE or pay £3.95 for home delivery.
Thanks amblou999 @ HUKD