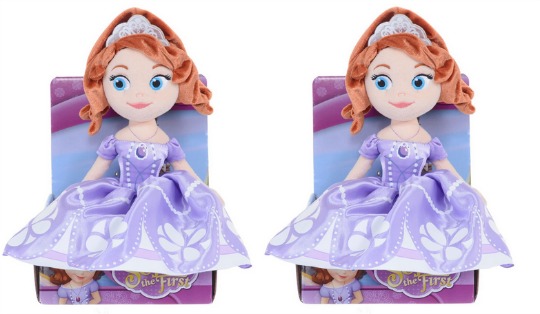 Disney's Sofia The First is still as popular as ever with children, and this soft toy would make a lovely gift for young fans. The Sofia The First 10 inch Soft Plush Doll has an RRP of £12.99, and both Argos and Amazon have reduced it to £5.99, less than half price. Most other stores are still charging full price, and one is charging £16!
Argos are offering this toy as an online exclusive with free home delivery, or free reserve and collect from stores. Amazon will only give free delivery to Prime members, or if you are buying other things then orders over £20 also qualify for free delivery.
What I like about this doll is that it's one that younger children can play with, as it's suitable from one month. Lots of toddlers watching Disney Junior will be younger than three, so finding toys that are suitable for that age group can be a little tricky, so this is a great solution.
Stocks seem very widely available for both delivery and collection from Argos, and the Sofia The First Plush Doll is also in stock at Amazon.