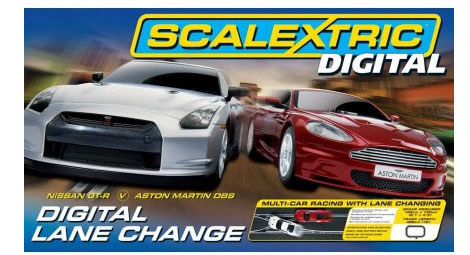 Oh my godness, Scalextric has gone digital and Model Zone are selling this Scalextric Digitial Lane Change race set for £99 instead of £199; yippppeee!
I had a Scalextric set when I was a little girl.  I was never into Barbie or other dolls, they were just SO boring, I was all about cars, go-karts and climbing trees!
I'm still all about cars and anything motorsport - I don't climb trees anymore though, it tends to wreck my nail polish - so I'm rather excited about this Scalextric Digitial Lane Change race set and am rather tempted to buy it (for my youngest son you understand).
With the old sets of yesteryear you could only race two cars at a time (I had two minis) but with this Scalextric Digitial Lane Change race set you  can race up to four cars at the same time; awesome.
Two Digital Chip installed cars are provided - an Aston Martin DBR9 and a Nissan GT-R (I have a friend who drives one of these for real, it's far too much fun) - you'll be performing amazing, realistic overtaking and braking manoeuvres and you can switch lanes at the touch of a button to overtake or block your opponent.
You'll have everything you need to get started with Scalextric Digital - it features an oval circuit and the cars, you can buy additional digital cars or you can, apparently, easily convert most standard cars to run on digital layouts.
The super resistant Nissan GT-R and Aston Martin DBR9 feature change pick-ups and the Magnatraction™ system to help them stay on the circuit.
Four cars can be raced simultaneously using the powerbase provided in the set or upgrade to the Advanced Six Car Digital Powerbase (C7042) for six car races.
That's it, I've managed to convince myself, during the course of writing, that I need this my youngest needs this Scalextric Digitial Lane Change race set in his life; I'm off to order mine his.
Thanks to broadyo796 at HUKD