Quick! Disney Frozen Anna & Elsa Skating Dolls £21.07 Delivered @ Amazon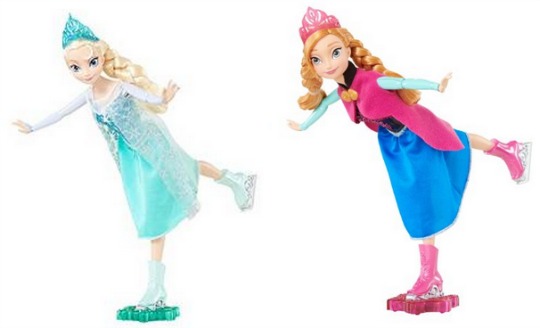 These Disney Frozen Anna and Elsa Ice Skating dolls are tipped to be one of the bestselling toys of Christmas 2014. Get your mitts on one as soon as you can. We found them for only £21.07 each with FREE Super Saver delivery @ Amazon.
Both Anna & Elsa dolls can move forward smoothly like they are gliding on ice. Their arms and legs can be manipulated to an arabesque position, so that they look elegant as they slice through the ice. There is of course, no real ice involved! The snowflake base enables the dolls to skate easier. It is optional though, and can be removed.
Both dolls come dressed in lovely ice skating outfits that fit in with the Disney Frozen theme. Ask a child what there favourite seen from Disney's Frozen is and a lot will say when Elsa is ice skating at to mark the end of the wintry spell. Add Anna to that too and imagine your little Elsa & Anna fan's face light up.
Be quick and grab your Disney Frozen Anna or Elsa Ice Skating doll today!