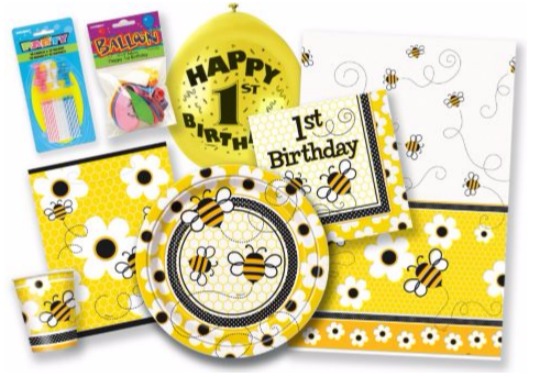 Kids parties can be hard work, but they are much easier if you are well organised. On thinking about my son's birthday in August I have been buying bits and pieces. I noticed that Argos have selected Party Kits reduced and they start from just £1.99 with FREE delivery included.
If you can buy a Party Pack rather than having to buy all the bits separate then not only is it easier but you will save £££'s. You can get themed ones or plain and I guess it depends on what you need them for.
I am loving this Busy Bee 1st Birthday Party Kit*for just £7.99. It includes: 16 medium paper plates, 16 paper cups, 1 tablecloth, 16 napkins, 18 candles, 8 balloons, 16 party bags and a party banner.
These Solid Colour Party Kits are great value at just £6.49-£6.99 delivered and come in Pink*, Red* and Blue*.
A lot of the full Party Kits cater for 12 to 16 people but if you need more you don't have to buy over the amount you need, just grab a Top-Up Pack like this Rainbow Party* one for just £1.99 delivered. These contain enough for another eight people, so are even fine if you are having a small party.
You can Reserve and Collect for FREE from an Argos store. Most of the Party Kits include FREE delivery, but for those that don't it's £3.95.