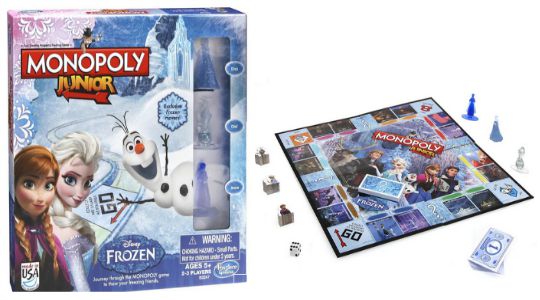 Monopoly is a great game to play with the family, and now you get lots of different editions. Some are rather collectable. Monopoly Junior is best for younger children of five and above. This Monopoly Junior Frozen Edition Board Game is just £10.79 from Amazon. This is a GREAT price. It sells for £18 at House of Fraser, £17.99 from Argos and £13,49 at Smyths, so you can see how much of a bargain it is at just £10.79.
Monopoly Junior Frozen Edition Board Game includes a game board, 3 character movers: Anna, Elsa and Olaf, 24 chance cards, 36 character markers, 90 x M1 banknotes, 1 die and instructions. It plays just the same as the original version of Monopoly Junior, but is themed around Arendelle and Disney Frozen characters.
This is a MUST HAVE for those Disney Frozen fans. Expect squabbling as that's what always happens when you play Monopoly. It'll start with who is having which character marker and then someone will get accused of cheating and so on. It is great fun though.
You can have Monopoly Junior Frozen Edition Board Game delivered for FREE if you have Amazon Prime or you spend £20 or more.