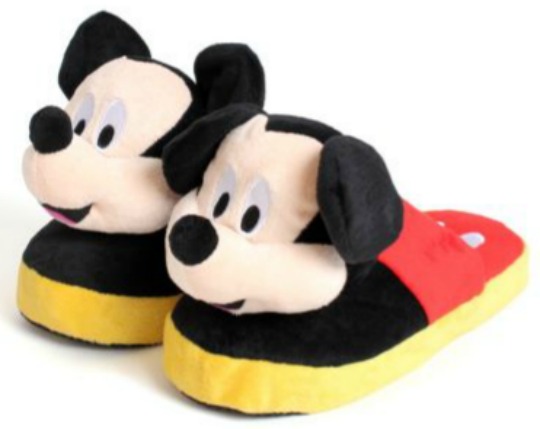 We put some Dalmation Stompeez slippers on the other day and they sold out very quickly. These aren't as cheap but are still an absolute bargain, and will appeal to more children than the Dalmation ones. These Mickey Mouse Stompeez are currently £8.49 from Argos. They are selling for £16.99 at BHS, £12.73 at Asda Direct and £16.99 at Toys R Us.
These Mickey Mouse Stompeez slippers are available in XS (7-9), S (10-12), M (13-2) and L (3-5). Even adults can wear the size L, if funky slippers are your thing. They are wipe clean only, which I prefer bunging slippers in the washing machine every now and then because my kids have hideously sweaty feet.
With each step your child makes these Mickey Mouse's ears flap about in a hilarious fashion. I think these are a great way to encourage children to wear slippers. They are so thickly lined with ultra soft material and look ever so cosy for little feet. Thankfully these are chunky but not like other character slippers that look nice but just aren't practical for kids to walk in.
You can reserve and collect these Mickey Mouse Stompeez from your local Argos for free. I thoroughly checked for stock and availability is super on sizes M and L, slightly limited for S and extremely low on XS.