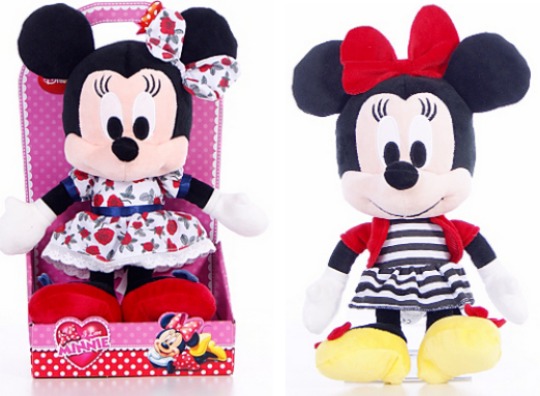 Both 10 inches tall the "Rose" Minnie is £2.99 reduced from £11.97, while "Monochrome" Minnie is £2.49 reduced from £9.97.
Both of these are 10 inches tall as above but my favourite has to be the Rose Minnie. Super cute, she's wearing "a beautiful 50s style rose print dress with matching bow and co-ordinating red shoes with navy bows". Monochrome Minnie is still cute and she's wearing "a beautiful black and white striped dress with red cardigan and matching bow and coordinating yellow shoes with red bows".
I sometimes think I'll scream if my daughter chooses another soft toy when we're out shopping but ultimately kids do love them, especially when they're of their favourite characters. I'd be snapping these up if I had any Disney trips planned or shows booked. Kids don't notice the difference but adults certainly do in the pocket and purse. What costs you less than £3 here at Asda, would cost you at least seven times as much at either of these.
As always, these are available for free store collection to an Asda near you or home delivery but then you've got that £2.95 delivery charge on top.