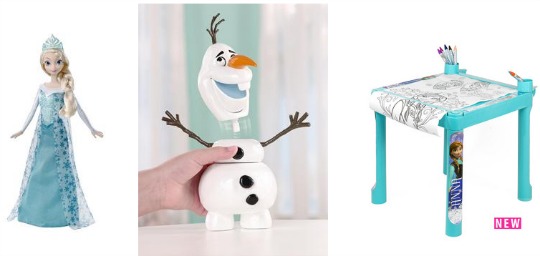 Very can sometimes be thought of as expensive, well catalogues in general can be, but they have some reasonably priced Frozen merchandise right now, plus you can also bag a little treat for yourself.
Elsa and The Colouring Table will be delivered within 7 days, while Olaf is available now.
Make sure you check out the Very Treats too before you pay. By entering the code 4G96U in the promo box at checkout, you'll get a rather lovely Soap Slices Set from Bomb Cosmetics.
The Elsa doll needs no describing really, you've either been waiting for weeks to grab one and are already checking out over at Very or are lucky enough to have bagged one in recent times and know exactly what I'm talking about.
Onto Olaf, I love this guy, he comes apart and is a huge hit with kids. We have this particular model and as you can see from the pic his head pops off, as do his arms and he has a range of facial expressions. He's a hard plastic toy, not the soft cuddly type.
The Colouring Table we don't have (at the minute!) and it features the characters on each leg and comes complete with 5 metres of Frozen themed colouring sheets and 8 crayons for your little fan to get creative.
While not on special offer, I think the fact these are competitively priced and in stock or available to order makes them worth a mention.
Delivery is free on these if you use the Collect+ option to a store near you or home delivery will cost you £3.95. Don't forget to add that treat for yourself at checkout, you deserve it after tracking down all these Frozen items!