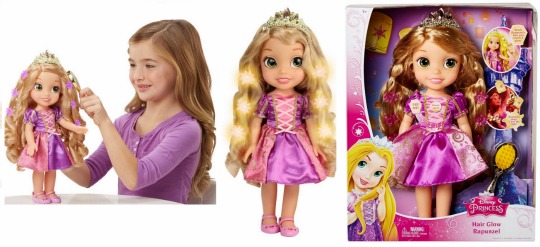 Back in September we told you about the Toys R Us Hot Toy List 2015*. This list featured the top 20 toys for this Christmas. One of the toys on the hot list was the Disney Princess Hair Glow Rapunzel Doll. This doll normally retails for £34.99 but is currently selling for £29.99 at both Amazon and Smyths including FREE delivery.
Although this doesn't sound like a massive saving I have been keeping an eye on this doll and this is the first time I have seen the price drop. It is very popular and seems to sell regardless of the price. If this is on your little one's Christmas list then you may want to grab this quickly incase it goes back up in price.
The Rapunzel doll is from the popular Disney film, Tangled. Rapunzel's beautiful, long magical hair is what makes her really special. Included with the doll is a hairbrush, when you use the brush to comb Rapunzel's hair it magically lights up and glows as it does in the film. She sings her hit song from the film, 'I See The Light', the magical moment when she sees the lanterns being released. This doll is a must for any Tangled fans this Christmas!