Disney Princess Go Glow Bedtime Trainer Clock £5.20 @ Amazon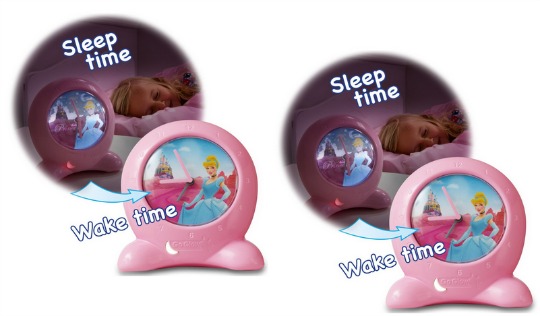 The Disney Princess Go Glow Bedtime Tracker Clock is what I need in my house now that the clocks have changed for the summer. Seriously, they won't go to sleep and night, then they are prodding me to wake up at the crack of dawn. This Bedtime Trainer Clock will set you back just £5.20 and is worth every penny if it keeps the little ones in bed when they should be. Don't faint, but this clock would cost you £18 at Asda George. That's right...£18!
So what is so special about the Disney Princess Go Glow Bedtime Trainer Clock? It supposedly supports bedtime and morning routines for little people. It's a 2 in 1 contraption as it is a night light and a "bedtime trainer" that encourages your child to stay in bed by showing Disney Princess images and a soft glow. This will most likely distract your wee one until they drift off.
For it to work fully, you must set the time of your child's bedtime so that the night light stays on throughout the night and switches to a Disney Princess Day Image once it's time to get up. I take it you tell your child to stay put until that daytime image comes up, then they can come and wake you.
You must spend £10 or more to get FREE delivery at Amazon, so ask a friend or two if they want to get one too or add to it to an order. To be honest I would be inclined to buy a few at this price and give them out at birthday and Christmas.