Disney Frozen Fleece Blanket £5 @ The Entertainer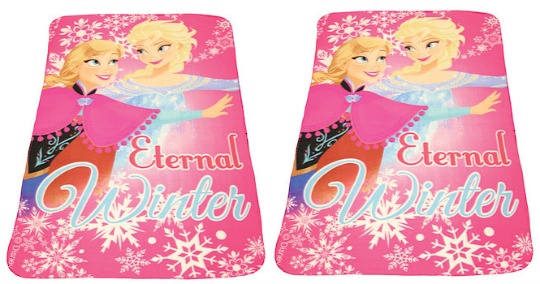 Yet another Disney Frozen bargain...you guys want them so we keep looking for them. The Entertainer have halved the price of this pink Disney Frozen Fleece Blanket, from £10 to just £5. Ideal for those colder wintry nights. I think this is a super price for yet another little gift for that stocking or maybe for that niece or the little girl next door, etc.
Disney Frozen....hmmm. We have pretty much said everything there is to be said about the wintry tale and the characters in it. If you have already bought most of the toys that are in the shops then this is a good item to consider.
It's practical and seasonal, with it's snowflakes and "Eternal Winter" script. Anna and Elsa feature on it too of course. Those sisters get their faces on everything.
This is VERY pink in colour and should be soft too, my boys like a blanket to snuggle into some nights in front of the television. Made from 100% polyester this can only be machine washed at a temperature of thirty degrees maximum. I don't think it can be tumbled dried but it should dry quickly without anyway, due to it being a fleece material.
You can collect the Disney Frozen Fleece Blanket for FREE from your local The Entertainer or pay £2.99 for delivery.