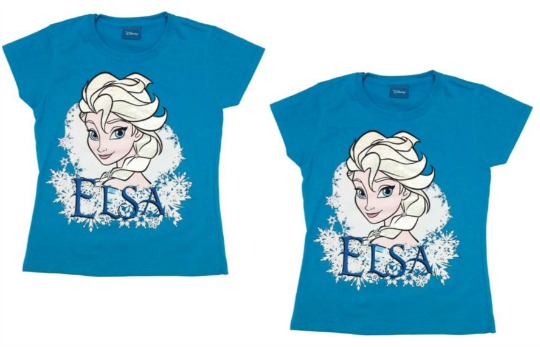 Elsa is still in high demand and no wonder, a truly positive, modern heroine for young girls. The kids love her and so do us parents, truth be known we have wanted to be a bit like her ourselves. Argos have reduced the price of the Disney Frozen Elsa T-Shirt from £6.99 to just £3.99 and now down to £1.79! What a bargain! There appears to be decent stock levels across the UK, so your chances of bagging yourself one are good.
The Disney Frozen Elsa T-Shirt is vivid blue in colour, which is in keeping with the icy theme. There is a large motif that reads 'Elsa' and features her face surrounded by snowflakes.
This T-Shirt is made from 100% cotton, so it'll be gentle enough for sensitive skins plus nice and cool for the summer. It can be machine washed at forty degrees and most likely tumble dried too but I would read the label to double check.
Sizes available are 3-4, 5-6 and 7-8 years and they are all in stock.
You can reserve and collect the Disney Frozen Elsa T-Shirt for FREE from your nearest Argos or pay £3.95 for home delivery.