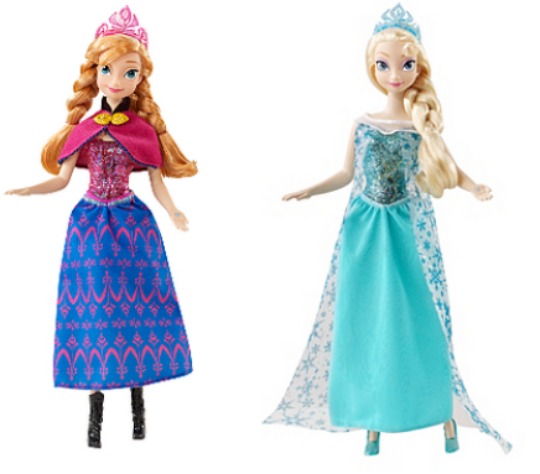 ASDA have new stock of the Elsa and Anna Musical dolls from the Frozen movie. They are currently selling at £29.97 each with £2.95 delivery or free instore collection.
Musical Elsa is described on Asda as:-
Your Disney Frozen fan will love this Elsa fashion doll. This 10" fashion doll wears her signature outfit. Elsa's ethereal gown looks as delicate as a snowflake and as majestic as her own icy powers. A strip of white showcases the gorgeous, light-blue bodice. Her long blue skirt, accented with a deep blue ribbon sash, provides a peek at her translucent blue heels. A sheer white overcoat detailed with snowflakes completes the elegant look.

Her flowing blond hair, pulled into a side braid and topped with a translucent, glittery blue tiara is the perfect final touch. Simply hold Elsa's hands to see the doll 'magically' light up and play enchanting music.
There's also an Anna doll but her description on ASDA makes her sound a tad boyish! (It's Kristoff's details!). She's as lovely as her big sister though and comes with all her counterpart's finery.