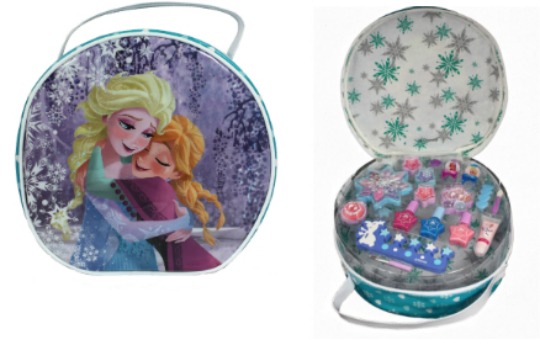 This is a cracking price for the Frozen beauty bag. My daughter has it and even although it states on Lloyds it's currently half price at £5, I'm certain I paid a good bit more than that when they first came out. It's part of their Friday "£5 Deal Offer" so it may only be for today. I wouldn't wait around if you want one.
You get quite a bit for your fiver here. The bag itself is re-useable and it contains :
• 1 x 8 lip gloss snowflake palette
• 3 x star lip gloss pots
• 1 x 5 cream eye shadow palette
• 2 x lip gloss rings
• 1 x lip gloss
• 1 x blush
• 3 x nail polishes
• 3 x hairclips
• 1 x Olaf toe separator
• 1 x sponge applicator
• 1 x brush applicator
These are great to buy for those last minute parties that little ones get invited to. Or to be more accurate to save the last minute dash by mum to the shops to look for something suitable. (Please tell me that's not just me?!)
You can have this bag delivered to your local Lloyds Pharmacy free of charge or opt for home delivery but that will add £2.95 to your total, unless you're buying a few other things and spending £35 or more-then it's free.
Thanks to Bargain04 @ HUKD!