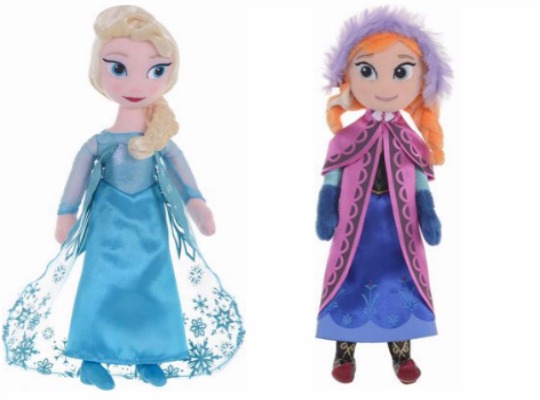 Disney Frozen has really been a success and the fact that it just hasn't dipped in popularity is testament to that. You can find the merchandise everywhere but that doesn't mean it's cheap. Retailers can add £££'s to anything that carries the Disney Frozen logo. These Anna and Elsa 10" Dolls from Argos are a great price though. Reduced from £14.99 to just £7.49, they are just begging to be bought for a Frozen Fans' Christmas.
The Anna and Elsa 10" Dolls are soft toys, like a rag-doll and come dressed in their signature attire- Elsa in her icy blue, glittery number and Anna in her understated purple cape (she really did draw the short straw).
These are great for younger kids that are not quite into proper "Barbie" type dolls yet. These are suitable for babies so if you know a young Frozen Fan then you just have to get them this. There aren't a lot of Disney Frozen Baby Toys out there.
You can Reserve and Collect your Disney Frozen Doll for FREE from an Argos near you or pay £3.95 to have it delivered to your front door.