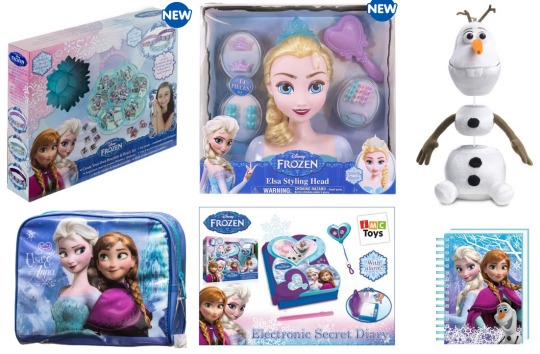 For those of you who live near a B&M store you are in luck. They have just got loads of new Frozen gifts in store, and they are such great prices that it is definitely worth a trip into store to grab some of these. Some of them like the Elsa Styling Head and the Pull Apart Olaf are the lowest prices we have seen! Some of the gifts have even been reduced, and there are tons of stocking filler gifts for less than £3!
B&M do not offer online shopping as they are a bargain retailer, but you can see the products that are in stores on their website. You do need to bear in mind that availability will vary from store to store, but the one I went in this morning had a massive display of new products right by the front doors and most of the items listed online were there.
There are stocking filler chocolates and stationery from 79p that are much cheaper than elsewhere - the Frozen Mega Colouring Book is selling for around £3 and in B&M it's £1! There's a really cute little wash bag for £1.99, the Frozen Memory Game is reduced to £2.99, and the Frozen Cushionhas now gone down to £3.99!
The Elsa Styling Head is only £12.99 when the cheapest I have seen it is £15! And the Pull Apart Olafis also £12.99!
There are also some new products that I hadn't seen before like the Secret Diaries, the Jewellery Maker Kit (fab at £6.99) and the Frozen Ball Pit!
There really are some low prices to be had in B&M bargains on Frozen gifts, especially with the stocking filler items. If you have a Frozen fan and can brave #PanicSaturday then see what you can find in your local store.