Quick! Clarks Mid Season Sale Starts Today! Prices From £10 Delivered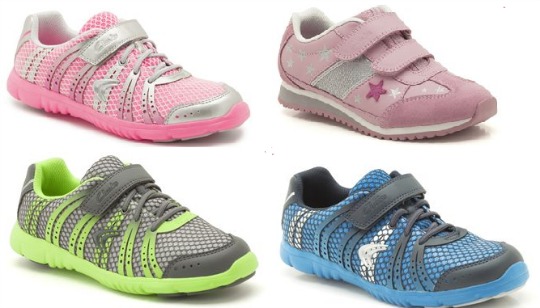 If you are quick, you will manage to bag a bargain over at Clarks. Today, they launch their Mid Season Sale. Shoes start at just £10 and have up to 55% off. There isn't a massive selection, but there is a variety of styles for boys and girls. Too be honest, we were secretly hoping that there would be loads in the sale. I'd be inclined to have a nosey instore too, see what goodies they have.
If you LOVE a good Clarks sale, then this will excite you. There might not be a vast selection but what is on offer is at a great reduction. It appears that the mens'* and the womens'* are better, so why not have a look over at them?
For the girls' footwear sale, I like these Superglitz* infant shoes, they were £30 but yours today for only £20. They come in seven to nine and a half and are available in four width fittings. You certainly can't fault Clarks on the fit of their goods. For older girls, there Freespirit* shoes are a fab buy at £20, considering they were £34 originally. These are available in a thirteen and a half to two, in an F or a G. These £10 canvas shoes*, are ideal for in nursery or as play shoes.
Right, onto the boys', the green Free Tempo* boys shoes are nice and have been reduced from £32 down to £20. The sizes available are an infant seven all the way up to a twelve and a half. It's also worth checking out the blue version*.
Delivery is FREE as always with Clarks online. If the shoes don't fit then, don't worry, you can send them back completely FREE of charge. If your little one is needing their feet measured, then pick up your order from your local store, and kill two birds with one stone.