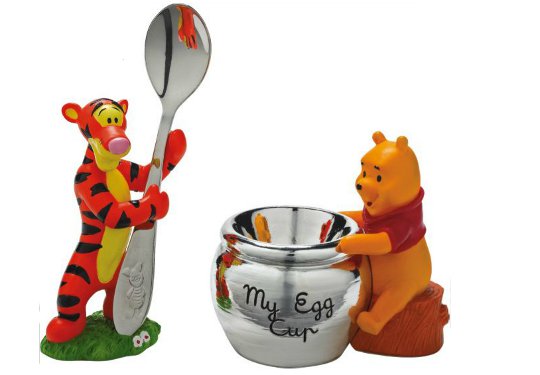 You know those things that are so over the top unnecessary, but so cute you just have to have them? Well, this is one of those things: Winnie the Pooh and Tigger Egg Cup and Spoon. Argos are selling the set for £14.99, which is a 25% saving on the original £19.99.
This does look like a really cute set – although it doesn't say what it's made of. I did think it runs the risk of being plastic and tacky, when it came down to it, but there's one review and according to that, it's as gorgeous as it looks.
Tigger stands ready with the spoon while Pooh sits on a tree trunk and hangs on tightly to the silver plated egg cup.
It also comes in a gift box, so it would make a lovely Christening or birthday present.
The Winnie the Pooh and Tigger Spoon and Egg Cup is not available for home delivery, but there were still one or two available in all the postcodes I tried.