Trunki GoVinci Back Pack £10.23 @ Amazon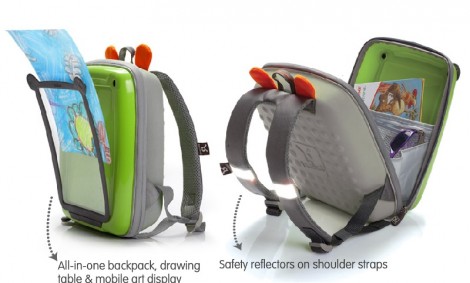 The Trunki GoVinci Back Pack and Travel Drawing Table is down from £19.99 to £10.23 at Amazon.
So, this is one of those totally gimmicky, non-essential things for kids that can actually be just plain brilliant.
A play on Da Vinci, I guess, the GoVinci is a travel accessory for creative tots. The lightweight back pack has enough room on the inside for a child's daily essentials, and doubles as a doodling pad.
The back of the pack has a clear frame, designed to show off artwork, while the front is made from wipe clean plastic, in case the doodling goes 'over the lines'.
This really seems like a perfect thing to have if your child does your daily commute with you, or a fantastic distraction for those time you find yourself in heavy traffic, or in a queue somewhere.
As Mrs Cawley, an Amazon customer reviewer says, "It was the answer to a lot of problems with long trips, she has all her things in it and she could sit in the back and draw the picture that comes with it kept her happy for ages."
Thanks to shadow1 on HUKD