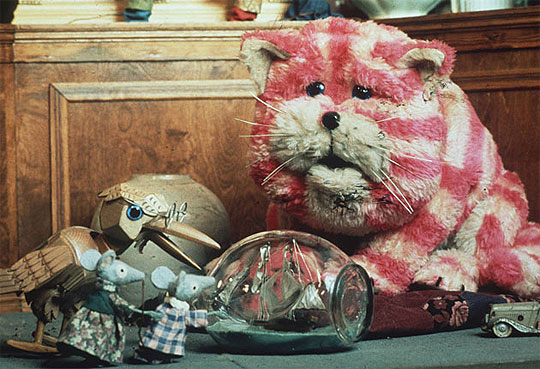 Past Times are selling this Talking Bagpuss for £10 rather than £25.
Click HERE to take a look at Talking Bagpuss
Past times indeed - I loved Bagpuss as a child.  I bought the Bagpuss DVD when it was released, along with a cuddly Bagpuss and if I ever have another cat then he will either be called Bagpuss or Cheshire (ohhh, I want to get a cat now, I was talking about it with my husband last night!).
Talking Bagpuss is 38cm tall and super soft and cuddly; to have him talk to you (which includes his very famous yawn - I can hear him doing it in my head right now, can't you?) you simply squeeze his mouth.
Reviewers say that Bagpuss' voice is exactly the same as it was back in the day when he was on TV, so there's no need to worry about a dodgy impression of him.
Delivery usually costs £3.50 but enter this code - 30JEWEL - into your basket and it will come down to just £1 instead; much better.
"Even Bagpuss himself once he was asleep was just an old, saggy cloth cat - Baggy, and a bit loose at the seams, but Emily loved him..."
Thanks to djmetsandy and apesvc3 at HUKD (don't forget to add the code to your basket!)