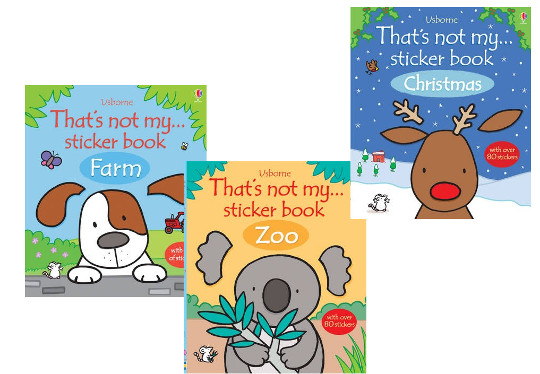 That's Not My... Sticker Books are on sale at WHSmith at 25% off, so reduced from £4.99 to £3.74.
Now, there are two things to note here: This is quite a heavy price tag for a sticker book, but you'll probably buy it because it's the 'That's Not My...' series, which has been a crazy hit with children everywhere.
And two: This is part of the children's books sale at WHSmith, which I wouldn't actually fall over myself to shop at because the books are still up to and over £2 each, whereas you could go to The Works and get 10 books for £10. Not the same books, sure, but similar ideas, concepts and activities.
Aparently, these books offer specially-designed stickers suitable for little hands and fingers.
You can add wheels to a tractor, the ears, mane and nose to a horse, decorate a cow with spots and a beak and hat and nose to a scarecrow, or complete a snowman with his hat, nose and scarf, decorate a Christmas tree with baubles, add patterns to a stocking hanging over a fire, add antlers, ears and a nose to a reindeer and dress Santa ready for his busy night.
Children can complete the simple sentence "That's my - " at the bottom of the page helping them to learn their first letters.
I know it's expensive for a sticker book, but it does sound like it's pretty different and unique, and a little more to it than your average sticker book.