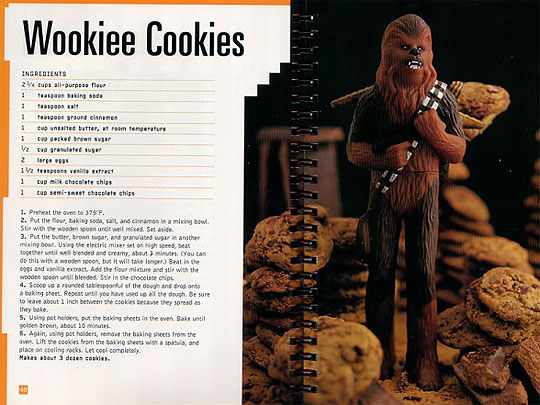 Amazon are selling this Star Wars Cook Book for £9.50 instead of £18.99.
With a Wookie Cookie recipe to follow, how could I not tell you about this Star Wars Cook Book?!
It's going to be a must for young, older and old Star Wars fans alike - my youngest son will love this, I love this, I told my mum about the Star Wars Cook Book yesterday and she loved it too.
It's not just full of cookies and Bossk Brownies, if you're a pasta fan then I'm sure the, wonderfully titled, Boba Fett-ucine recipe will appeal to you possibly followed by a mug of Hoth Chocolate.
Apparently the book contains, and I quote, "Hilarious photos and safety tips for cooking on earth and in most space stations," - "That's no moon..."<---- I couldn't resist! - and if all of that Star Wars culinary frivolity and happiness wasn't enough for you, the Star Wars Cook Book: Wookie Cookies and Other Galactic Recipes comes with a sheet of shiny and sparkly Star Wars stickers too; marvellous!
Stock of the Star Wars Cook Book is getting low - there are more on the way though - and they may take a couple of extra days to arrive.
Happy Wookie Cookie baking!