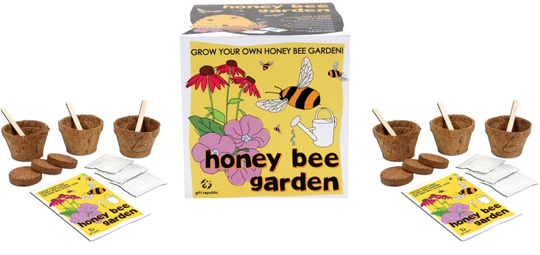 Our honey bee population is under threat.  They are disappearing at an alarming rate and I, for one, CANNOT imagine a world without honey so let's all do our bit for the bees and sow and grow a honey bee garden!
Sendit are selling a Sow and Grow Honey Bee Garden set for £4.99 at the moment, which contains all of the following bits and pieces to get you started with your honey bee garden:
1 packet of bird's foot trefoil seeds
1 packet of clarkia seeds
1 packet of echinacea seeds
3 coconut husk starter pots
3 coconut husk compost discs which expand when watered
3 wooden plant markers
Sow and Grow booklet with growing tips and puzzles
Green-fingered Jamgin, over at HUKD, also recommends planting Borage for to attract bees - apparently they LOVE it; Lavender is also very good for bees and lavender honey is just YUM!
I think this Sow and Grow Honey Bee Garden kit is just lovely - it's a great way to encourage children to get in touch with the world they live in, learn about and see how things grow and, hopefully, foster a sense of responsibility for the world they're going to inherit.
Delivery will cost you an additional £1.99 - it's for the BEES, come on!
Thanks to goonertillidie at HUKD