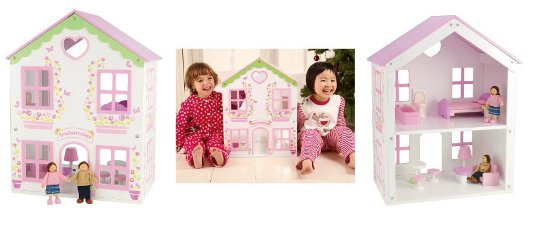 The lovely Rosebud Dolls Cottage is on offer at Mothercare at the moment – reduced from £50 to a fantastic £15, that's an amazing 70% off. As you can imagine, it's flown off the virtual shelves as is no longer available online, but it is still available in store and with £35 off, it's certainly worth a call to your local store to see if they have it in stock.
This Rosebud Dolls Cottage is a smaller version of the massive dolls house, but for those of us with smaller space, it's an ideal size at 52.5cm length, 41.5cm width and 25cm high.
It comes with a range of classic furniture, including a bed, toilet, chairs, table, a sofa, a large floor standing lamp, a bath and two people.
Oh, and a little heads up: if it's still marked as £25 in your store, ask them to scan it and it should come up as £15. Even so, £25 is a pretty good price too.
Thanks to mummyk123, monkeybum01 and Joto at HUKD